Turtlepike Expressway is a expressway going through central Mayani, Florida. In the east across Mangrove Bay it runs along the Sunshine Causeway which takes the highway further across the bay and into Mayani Beach before it terminates at the intersection of Bayshore Boulevard and afterwards becomes Palm Boulevard. The highway is six lanes wide until the outermost lanes terminate / begin at the exit in Downtown Mayani. The only interchange at the highway is with that of the Airport Terminal Road which allows access to the main terminals at Mayani International Airport. There is an extra exit going to Maricon Avenue southbound, just after the ramp that leads to MIA. This exit is only accessible by those travelling from the wetlands. Mayani Parkway terminates just outside the Greater Mayani area before becoming a normal two-lane road going into Chobee County.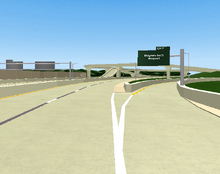 Community content is available under
CC-BY-SA
unless otherwise noted.