89.7 Rockalypse FM is a radio station hosted in Mayani, Florida. It is featured in Huntdown: Mayani and plays mainly rock music.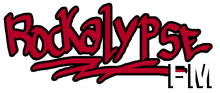 Roxette - The Look
Billy Idol - Rebel Yell
Elton John - Philadelphia Freedom
REO Speedwagon - Can't Fight This Feeling
Journey - Separate Ways
Peter Kingsbery - The Promise You Made
Bryan Adams - Run To You
Tommy Shaw - Dangerous Game
Def Leppard - Pour Some Sugar On Me
John Parr - St. Elmo's Fire
Starship - We Built This City
Cutting Crew - (I Just) Died in Your Arms
Bryan Adams - Summer Of '69
Van Halen - Jump
Don Johnson - Heartbeat
Phil Collins - Easy Lover
Paul Engemann - Push It To The Limit 
Godley and Creme - Cry
Status Quo - In The Army Now
REO Speedwagon - That Ain't Love
Stevie Nicks - I Can't Wait
Fleetwood Mac - Little Lies
Don Henley - All She Wants to Do is Dance
Kenny Loggins - Danger Zone
Kenny Loggins - I'm Free ( Heaven Helps The Man )
Guns N' Roses - Paradise City
Twisted Sister - I Wanna Rock
Whitesnake - Here I Go Again
Robert Tepper - No Easy Way Out
REO Speedwagon - I Don't Want To Lose You
Bon Jovi - Livin' On A Prayer
Genesis - Mama
Genesis - Land of Confusion
Outside Edge - Guilty
Community content is available under
CC-BY-SA
unless otherwise noted.