91.3 Radio El Cante is a radio station hosted in Mayani, Florida. The radio station plays latin jazz, salsa and reggae music.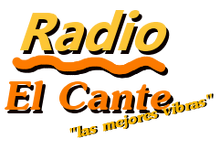 Ebony Samba - Francy Boland
Pete Rodriguez - Catalina La O
Santana - Gypsy Queen
Mongo Santamaria - Sofrito
Hector Lavoe - Mi Gente
Santana - (Da Le) Yaleo
Luis Perico Ortiz - Pa Lante
Aswad - Don't Turn Around
Junior Gonzalez - Violencia
Maxi Priest - Wild World
Eumir Deodato - Super Strut
Africando - Malandi
Lonnie Liston Smith - Expansions
Celia Cruz - Quimbara
Aswad - On and On
Tito Puente - Que Sera mi China
Tito Puente - Ran Kan Kan
UB40 - Kingston Town
UB40 - Red Red Wine
Bob Marley - Could You Be Loved
Gloria Estefan - Conga
Tito Puente - Oye Como Va
Amame - El Gran Combo
The Blackout All Stars - I Like It Like That
Earth, Wind & Fire - September - Latin Remix
Community content is available under
CC-BY-SA
unless otherwise noted.