Oceanview is a neighborhood in the city of Mayani Beach, and is the northernmost neighborhood on South Island. It is bordered to the south by Coral Beach and to North Beach northwards across a river seperating the island from North Island. Oceanview is mostly based of northern South Beach and Mid-Beach districts.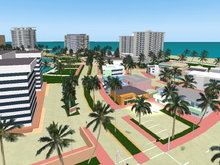 Along with Coral Beach, Oceanview was a well-known district during the 1930's with it's unique Art Deco and Streamline Moderne buildings, and was one among the most famous tourist destinations in South Florida all until the late 1970's when crime and drugs became the main image for Oceanview locals and travellers.
Character
Edit
Oceanview is mostly a lightly urban residential neighborhood with a few shops. A few highrises are located to the beach-side of the neighborhood. Oceanview is also the location for Oceanview Medical Center, one of the largest medical institutions in South Florida.
Businesses
Edit
Hotels and condominiums
Edit
Community content is available under
CC-BY-SA
unless otherwise noted.